European gas prices resumed their uptrend yesterday, still supported by ongoing tight fundamentals. Indeed, Russian supply dropped further yesterday, averaging 278 mm cm/day (compared to 288 mm cm/day on Friday), due to an additional drop in flows through Poland to the Mallnow interconnection point. Norwegian flows were also down, averaging 282 mm cm/day (compared to 287 mm cm/day on Friday), due to planned maintenance works. The rise in Asia JKM prices and in parity prices with coal for power generation provided additional support.
Nord Stream 2 operator's announcement that the dual-pipeline system had been completed offshore (paving the way for pre-commissioning work to take place ahead of commercial operations before the end of 2021) triggered an initial selloff, but traders quickly rushed to buy the dip and the bullish trend quickly resumed.
At the close, NBP ICE October 2021 prices increased by 3.660 p/th day-on-day (+2.81%), to 134.110 p/th. TTF ICE October 2021 prices were up by 137 euro cents (+2.66%) at the close, to €52.874/MWh. On the far curve, TTF Cal 2022 prices were up by 88 euro cents (+2.57%), closing at €35.087/MWh, slightly above the coal parity price (€34.684/MWh).
The announcement about Nord Stream 2 could finally exert a downward pressure on European gas prices today. But, for the market to really take a (short term) downtrend, prices must first break some key supports (€51.880/MWh on TTF October 2021 and €34.406/MWh on TTF Cal 2022).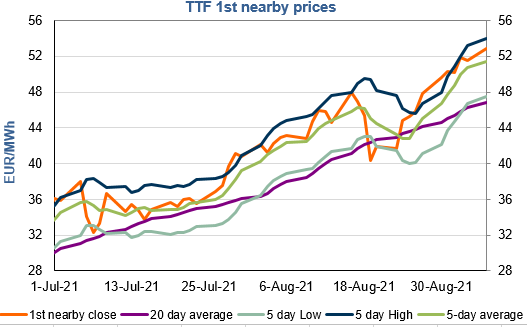 Source: EnergyScan